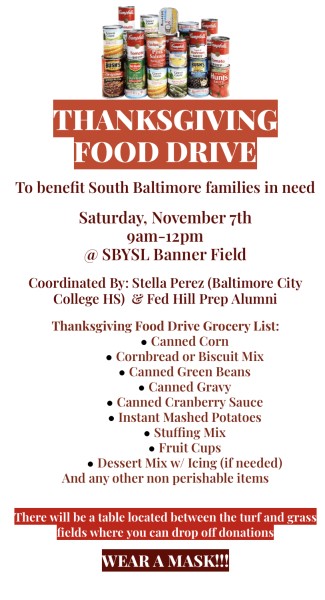 Good Morning SBYSL Families
This Saturday, Nov 7th is our last day of the Fall 2020 season.
On behalf of the SBYSL Board - Thank You again for your patience and understanding as we all adjusted to all the recommendations to keep us all safe.
ALSO - This Saturday, one of our SBYSL players will be collecting non perishables for a Community Service Event to help those in need in our community. Please see the flyer attached, and help Stella with her outreach. Kudos to you Stella for helping others!!! She will be stationed on the path between the grass and banner fields.
Indoor Soccer Planning is still in the "interest" stage. If you have not already, please fill in the attached survey, even if you do not plan to have your child participate.
Please complete using the link below on or before Nov 7th
https://docs.google.com/forms/d/e/1FAIpQLSeqAYCxHp4EOWMepeSoNJlv9rhp8x7vd7jjQwPijfbQdSnpDA/viewform?vc=0&c=0&w=1&flr=0&gxids=7757
Cindy